One arrested as UK Police comb London for bomber and terrorist network
A teenage boy is in custody and a street just outside London has been evacuated as part of the investigation into the Parsons Green Tube bombing.
Police are searching a house in Sunbury-on-Thames, Surrey, after an 18-year-old – understood to be the suspected bomber – was arrested in Dover earlier on Saturday.
Residents in the Cavendish Road area of Sunbury-on-Thames, Surrey, were told to leave their property by police at 1.40pm.
Police said a 100m exclusion zone has been established around the address and residents were evacuated as a precautionary measure.
Home Secretary Amber Rudd said it was "much too early to say" whether the bomber was part of the current security picture.
Speaking after a meeting of the Government's emergency Cobra committee, Ms Rudd said the arrest was "very significant".
"We have one arrest and an ongoing operation – when we have more information, we will be sharing it."



Security at critical level
The Dover arrest came just over 24 hours after an improvised explosive device injured 30 people as they traveled during the Friday morning rush-hour.
The attack, which has since been claimed by so-called Islamic State, led to the UK terror threat being raised to critical – the highest level. Scotland Yard described the arrest as "significant" but warned that the investigation "continues".
Deputy Assistant Commissioner Neil Basu said: "We have made a significant arrest in our investigation this morning.
"Although we are pleased with the progress made, this investigation continues and the threat level remains at critical.
"The public should remain vigilant as our staff, officers and partners continue to work through this complex investigation.
"We are not, at this time, changing our protective security measures and the steps taken to free up extra armed officers remain in place."
On Friday, Theresa May announced that the UK's threat level had been raised to critical, meaning an attack was expected imminently.
Armed police and troops have since been deployed across the country as security tightens up.
Highlighting an increased visible police presence after the Parsons Green bombing, Metropolitan Police Commissioner Cressida Dick today said: "London has not stopped after other terrible attacks and it will not stop after this one."
Scotland Yard said 45 witnesses had been spoken to and 77 images and videos sent to detectives by members of the public.
Parsons Green was shut down on Friday morning after the improvised explosive device sent a fireball through a carriage on a packed District Line train.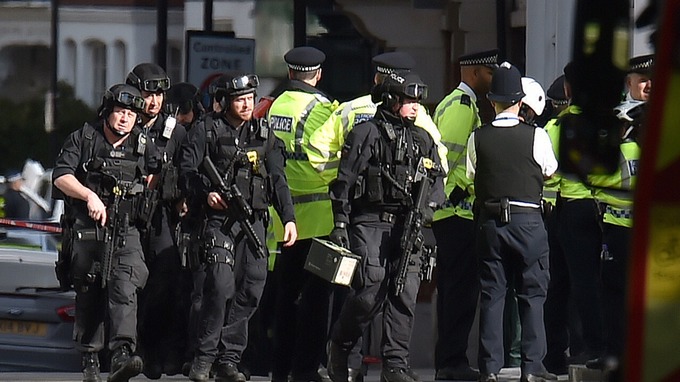 The package, wrapped in a supermarket bag, appeared to have been left on the train where it caught fire.
Nineteen of the victims were taken to hospital by ambulance, while a further 11 presented themselves – many suffering from burns.
Three still remain in hospital care, the NHS said.
Having been shut for the remainder of Friday, Parsons Green was re-opened to the public in the early hours of Saturday.
Announcing the raised threat level, Mrs May said police had asked for authorisation to enact part of the first phase of Operation Temperer – "a well-established plan to provide military support to the police".
The use of the military is believed to allow up to 5,000 troops to be deployed in support of the police.
The plan was activated for the first time on May 23 following the Manchester Arena bombing.