The Director of Auschwitz-Birkenau museum, Poland, Piotr Cywiński, wrote a letter to the President of Nigeria asking him to pardon a 13-year-old boy sentenced to 10 years in prison for blasphemy in Kano State. Mr Cywiński offered to gather 120 adult volunteers, including himself, to serve a part of the boy's sentence.
READ ALSO: UNICEF condemns sentence of 13-year-old boy in Kano, wants it reversed 
Commenting on the case for CNN, UNICEF's representative in Nigeria, Peter Hawkins, said: sentencing the 13-year-old Omar Farouq to 10 years of imprisonment is wrong. It negates all core underlying principles of child rights and child justice that Nigeria (and by implication, Kano State), has signed on to.
As a director of the Auschwitz Memorial that commemorates the victims and preserves the remains of the German Nazi concentration and extermination camp, where children were imprisoned and murdered, "I cannot remain indifferent to this disgraceful sentence for humanity" Mr Piotr Cywiński said.
Hence, he wrote a letter to President Muhammadu Buhari, asking him to pardon the indicted boy. The letter was published via the Auschwitz Memorial Twitter profile.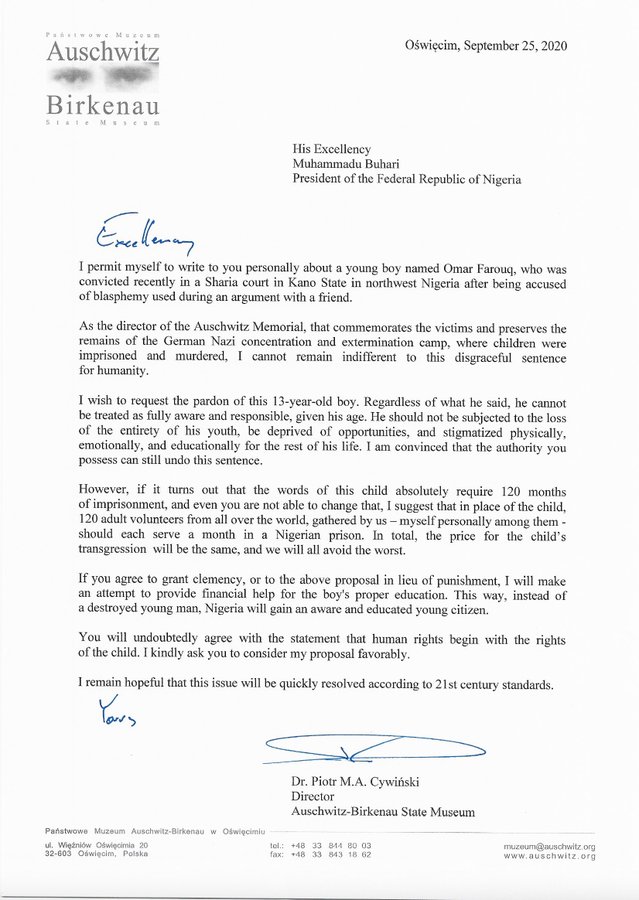 He said the boy cannot be treated as fully aware and responsible regardless of what he said given his age. He should not be subjected to the loss of the entirety of his youth, be deprived of opportunities, and stigmatized physically, emotionally, and educationally for the rest of his life.
He offered to gather 120 adult volunteers to each serve a month in prison instead of the convicted child. At the same time, the head of Auschwitz Memorial declares to serve a month of the sentence himself, if the boy is pardoned.  Mr Cywiński also commits himself to financially support the boy's education.