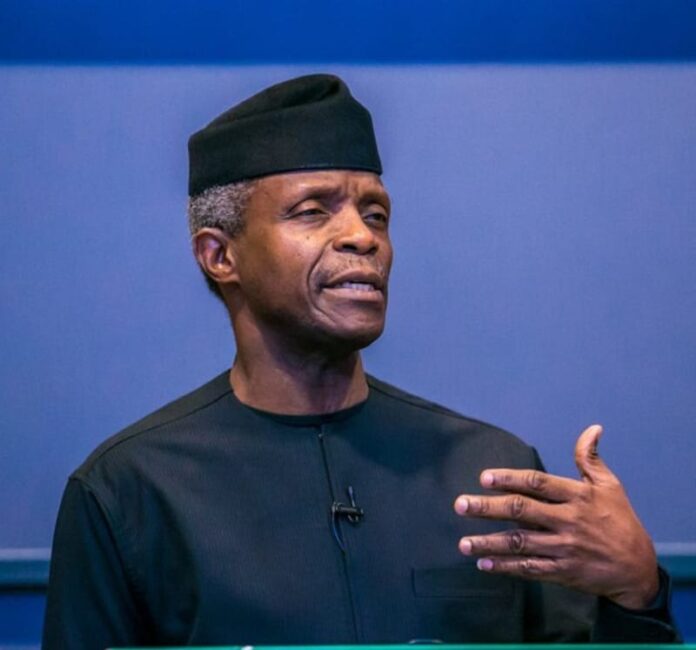 Osinbajo declares 5th Nigerian mining week open, commends sector's revenue performance
Story from

Abah ADAH

, Abuja
The Vice President (VP) of the Federal Republic of Nigeria, Prof. Yemi Osinbajo, has commended the revenue performance of the Nigerian mining sector within a space of one year.
The VP who made the observation on Tuesday while declaring open, this year's and 5th Nigerian mining week titled: "Seven Compelling Reasons to Invest in Nigeria's Mining Sector" which held virtually from 16th and ending 17th November 2021, said the sector recorded a 26.7% increase in revenue generation in its 2019-2020 yearly turnover.
READ ALSO: AfCFTA can create more jobs in 2030, reduce reliance on imports – PMB
"It's significant that within the space of a year we have recorded a 26.7% increase in revenue generation, from 2.559 bn in 2019 to 3.242bn in 2020. But while this is encouraging we recognise that there is still a lot of works to be done, hence the importance of this forum," he said.
On his part, while delivering the keynote address earlier, the Minister of Mines and Steel Development Arc. Olamilekan Adegbite who used the opportunity to woo both local and foreign investors appealed to willing investors to take advantage of the lucrative investment opportunities in the country's mining sector and invest in the industry amidst the conducive environment being created by the federal government.
The Minister said in line with President Muhammadu Buhari's resolve to diversify the economy away from oil, "we have indeed created a very business-friendly environment in the mining sector through reforms that grew out of the roadmap for the growth and development of the Nigerian mining industry.
"To this end, the ministry has continued to work hard to increase the revenue generated from the sector and its contribution to the national GDP. The sector is also being primed to be a huge job creator, broadening the spectrum of economic opportunities available to Nigerians through the pursuit of strategic policies.
"We have also institutionalised business-friendly incentives to further make the Nigerian mining sector more attractive to foreign investors," he said.
The incentives, according to the Minister, include customs and import duties waiver for the plant, machinery and equipment imported for mining operations; tax holidays of between three to five years as applicable; free transferability of funds and permission to retain and use earned foreign exchange; capital allowances of up to 95% of qualifying capital expenditure; deductibility of environmental costs (money meant for environmental remediation will be tax-free); and 100% ownership of mineral properties by investors.
"I, therefore, wish to urge those who are still dithering about investing in the Nigerian mining sector to take the leap. Our country still provides one of the highest rates of return on mining investment as our minerals are closer to the surface, conferring the advantage of lower cost of production when compared to other mining jurisdictions," he said.