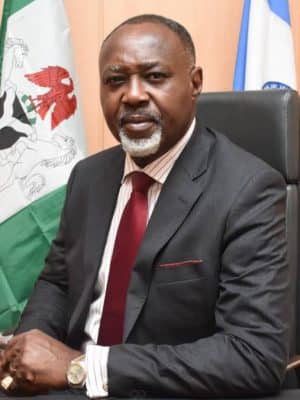 Functional inland waterways panacea to collapsing highways – NIWA MD
Story from Rabi'atu, Lokoja
The Managing Director, National Inland Waterways Authority (NIWA), Dr. George Moghalu said it is only a functional maritime sector that can save Nigeria roads from total collapse.
This is just as he disclosed the approval of a new salary package for the staff, charging them to give their best, saying as to whom , much is given, much is expected.
The Managing Director stated this at the end of year get to-gether ceremony held at the Authority's headquarters in Lokoja.
He noted that the Nigerian Maritime sector hold the potential to be the biggest sector of the economy, with an estimated 100,000km of inland waters, with 28 states which can be accessed by water, but decried the under utilisation of the sector.
Moghalu averred that the under utilisation of the sector has given rise to pressures on the highways leading to almost total collapse of the roads, stressing that funding of inland waters to be able to meet its obligations of moving heavy goods and cargoes will reduce over concentration on the road transport sector.
According to him, the reason why the road infrastructures don't last enough, was because, it was not designed to carry the kind of weight it is carrying on daily basis.
He added that in an economy that maritime is operating at its full throttle, heavy duty goods and bulk cargoes are transported either by water ways or rail, reducing pressures on the road sector.
According to him "If five million containers are leaving Lagos for the East , what that translates to is that ten million trailers will be on the roads and unfortunately, our roads are not designed for this kind of heavy goods and that is why we have collapsed roads all over the places.
"We are committed and putting everything in place to making sure that we can move cargo from point A to point B by water using badges and that is how, we can decongest major ports of Lagos, Onne, then we would have reduced pressures on the roads."
The Managing Director, disclosed that aside its comparative advantage in moving bulk cargoes, it has tourism potential that can bring needed direct foreign investment and create massive jobs for the people.
He said having the potential of the sector in mind, the management has begun to pursue vigorous reforms of the sector to meet the 21st century maritime domain.
He admitted that, there are challenges, but, said, the management is committed to thinking new ideas and new initiatives to put the organisation at par with its peers anywhere in the world, assured that he is determined to leave NIWA better than he met it.
While disclosing the Federal Government's approval of a new condition of service for the Authority, urged workers to be dedicated to their duties, so as to justify the confidence repose in them.
Highlights of the occasion was the presentation of awards to departments, area offices and deserving staff.