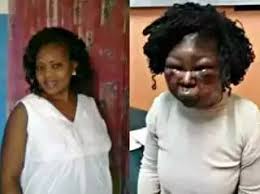 How husband beats up wife for wearing short skirt in Zimbabwe
A Zimbabwean married man has physically assaulted his wife for wearing a very short skirt without putting on her pants while doing their house chores in the Kadoma area of Zimbabwe.
The 35- year- old man identified as Mr Terrence Watyoka was arrested for beating up his 30- year- old wife Monica Chipwanya while she was cleaning the passage of their 3- bedroom apartment.
Watyoka has been charged to the Mbare Magistrate Court in Harare, for physically attacking Monica with a claw hammer after he discovered her cleaning with a very short skirt.
He pleaded guilty to the assault charges leveled against him, while narrating that he returned home around 12: 00 noon and saw the wife cleaning the passage of their three- bedroom apartment while putting on a very short skirt without wearing pants and accidentally exposing her privates to everyone who cares to see.
He said the annoyance made him drag her into the house where he mercilessly beat her up.
According to reports, Mrs Monica Chipwanya, sustained multiple injuries and fled their residence to a police station where she filed a report against her husband that led to his arrest.
The Magistrate of the Mbare Magistrate Court in Harare, Zimbabwe sentenced Mr Terrence Watyoka, to 13 months in prison and later suspended the entire sentence due to his cooperation with the court.