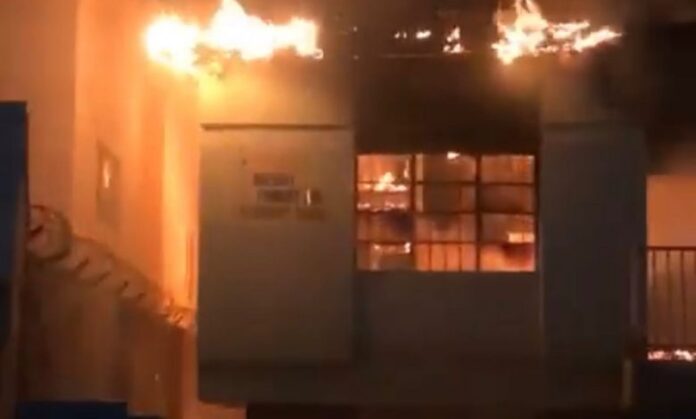 Angry mob set school on fire over Hanifa's killing
Story from Shafa'atu DAUDA, Kano
Angry youths on Monday set Noble Kids School where slain Hanifa Abubakar attended on fire.
The school's proprietor was involved in the act of her abduction, poisoning to death and burial despite collecting a ransom.
READ ALSO: NAWOJ advocates justice for Hanifa, others
The Kano State Government had ordered the school's immediate closure following the arrest of the school proprietor.
There has been widespread outrage over the killing, with President Muhammadu Buhari assuring that justice will be served on the perpetrators of the crime.
National Association of Model Islamic Schools (AMIS) Kano Chapter has condemned the brutal killing of young pupil Hanifa by her teacher in Kano.
National President of AMIS Malam Saleh Adamu Kwaru stated this in a resolution by the executive members meeting of the AMIS in Kano.
Kwaru said that the unfortunate situation could not be found in any of the members of Islamic Schools, as Islam condemned such an act in totality.
"Proprietors of private schools should live up with the trust of the children under their care, which is regarded as 'Amana'.
"To the parents, there's need for retraining our kids to be security vigilance with anything that did not suit their mind and assigning somebody responsible for taking of their kids and too and from school.
"We hope this will not create too much gap between the parents and the teachers because there will be mistrust among them now," Kwaru.
The Association of Islamic Schools itself from such an act, which advises the authorities to do everything possible to make sure the teacher punish according to his actions so that similar unfortunate situations will not happen in the future.
AMIS then sympathised with the parents of late Hanifa and commended the front action of the Kano State Government, inclosure of the school, for the investigation to take place.