Barrister Okoroafor visits Neptune Prime, advocates enlightenment on national unity
Worried by how the country is hurtling towards disunity and seeds of tribal hatred germinating, Barrister Okoroafor Vincent, a nationalist, Lagos based legal practitioner paid a courtesy call on Neptune Prime publisher, Malam Hassan Gimba, seeking ways to enhance national unity through the media.
The legal practitioner who has championed the course of national unity throughout his active years of legal practice noted that the media is a strong force in protecting the sanctity of the country and its freedom must not be limited.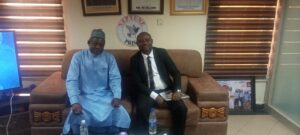 READ ALSO: Youssouf, Chadian presidential aspirant, visits Neptune Prime
He also urged the medium to continue its efforts in enlightening people on the laudable efforts of the government as well as its balanced reports meant to enhance national unity.
Malam Gimba, who praised the nationalist credentials of Barrister Okoroafor, assured him that Neptune Prime will continue its advocacy for national unity, peace and development.