Boyfriend arrested for allegedly removing eyes, vital organs of girlfriend
Moses Oko, the boyfriend and prime suspect linked to the death of Jennifer (his girlfriend) has reportedly been arrested.
A Twitter user identified by his handle as @Rolex7Michael who shared the news some days back also took to the micro-blogging platform in the early hours of Wednesday, 12th January to notify the public of his apprehension.
According to him, the parents of the suspect cut his hair and put him in a psychiatric hospital in order to make his identity obscure.
Jennifer Anthony, the victim was found dead in a hotel room with her eyes plucked out and vital organs removed after she was last seen with her boyfriend cruising in a car.
The netizen wrote:
"Finally…
The suspect, Moses Oko, has been arrested.
It is interesting to note that;
"Parents of Suspected Jennifer's killer shaved his hair and kept him in a psychiatric ward in a hospital" – Job Tjakes Tudu
I pray justice is served to the fullest extent of the law. B gd."
See tweet below: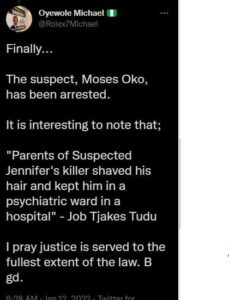 Jennifer, a university student went missing on the 31st of December. She was later found with her eyes and other body parts missing in a hotel, indicating that she might have been killed for ritual purposes.
They had been searching for her for days only to find her dead.