Dr Omadachi Oklobia visits Neptune Prime
Dr Omadachi Oklobia, a financial expert and Editorial Board member of Neptune Prime, yesterday, paid a courtesy visit to Neptune Prime publisher, Malam Hassan Gimba at its Abuja corporate office.
Dr Oklobia, who holds a PhD in Political Economy, was part of budget preparations throughout President Olusegun Obasanjo's tenure. He, later on, served as commissioner of finance, Benue State.
Now a lecturer at Nasarawa State University, Keffi, the financial and political analyst, who was full of hope, said he believes Nigeria has a bright future, that "our problems are teething and we shall overcome."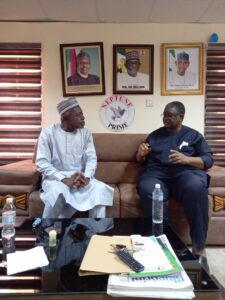 READ ALSO: Honourable Zainab Gimba visits Neptune Prime
He added that it is imperative to get it right in 2023 as we have an abundance of brilliant, young and energetic talents who can lead the nation out of the woods to a path of economic bliss.
Malam Gimba, who thanked him for the visit, assured him that Neptune Prime will remain a partner with all patriots working towards entrenching good governance in the country.