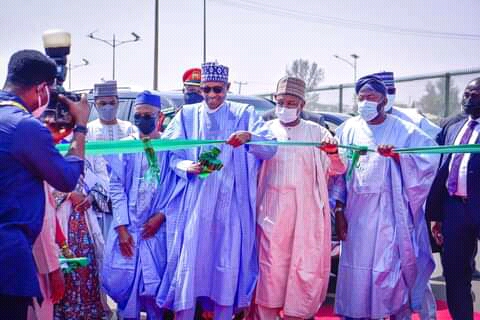 I was nearly bombed in Kawo in 2014 – PMB
Story from Saleh INUWA, Kano
President Muhammadu Buhari has revealed that when he arrived in Kaduna, he could not trace his house because Governor Nasiru El-Rufai has not only changed the face of the city but remodelled many facilities.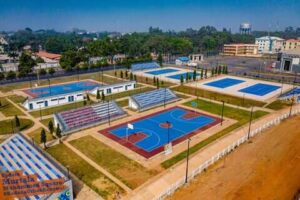 PMB, who is on a two-day working visit to Kaduna from Thursday till Friday, made the revelation at the Kano Bridge which he went to commission. He also said he was almost bombed near the bridge on his way to Katsina in 2014 but his security men were so vigilant, they saved his life with the help of God.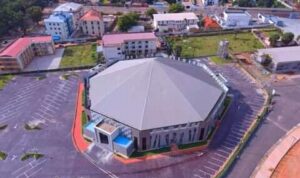 Similarly, he indicated his willingness to return to his house in Kaduna after his tenure finishes in 2023 and continue with his life.
The President, who arrived in Kaduna on Wednesday night, a day earlier than the scheduled day, was received by Governor El-Rufai, his cabinet commissioners, former Managing Director of NPA, Hadiza Bala Usman, NGOs, businessmen, friends of the governor and members of the press and some from the diplomatic corps.
READ ALSO: Without compulsory direct primary clause, Reps pass electoral bill
President Muhammadu Buhari was billed to commission the 8 Kilometers Kawo flyover, remodelled Murtala Muhammad Square, newly constructed Umaru Yar'adua Centre, metropolitan roads, Unguwan Sarki to Rigasa Flyover, several newly constructed markets, Yakubu Gowon Way, Waff road, Leventis underpass and several other projects executed by the Governor.
Nasiru El-Rufai, in his remarks, commended the President who, before and after retirement, has been staying in Kaduna State GRA, and assisting state governors with bail outs and Paris club facilities that have made them execute laudable projects for their people.
At the time of filing this report, the Governor was contemplating naming the Kawo flyover after the President.
Though the visit can be described by all standards as colourful, the 2019 PDP Governorship candidate in Kaduna State, Honourable Isah Ashiru has vowed to probe the Governor if his party forms the next government in Kaduna State. According to him, El-Rufai has taken massive foreign loans making Kaduna the second most indebted state in Nigeria, adding that most of the governor's projects are capital projects centered around Kaduna city and such projects are being embarked upon because the Governor will get a fat percentage.
According to Isa Ashiru, in spite of the insecurity in Maiduguri and the low internally generated revenue because of the companies that were destroyed by Boko Haram, Zulum constructed beautiful secondary and boarding primary schools, including several road networks. He was also able to construct and complete a 2.5-kilometre flyover which is the longest so far in the country and there is, therefore, nothing special that El-Rufai will showcase in Kaduna State.