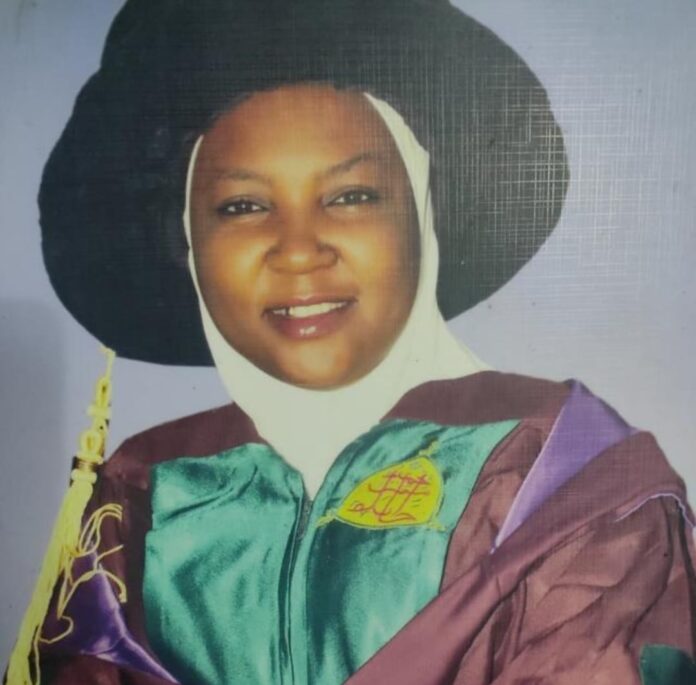 Language, culture, identity and conflict in Kaduna State, by Hauwa Mohammed Sani, (PhD)
Language is the basis on which humans establish a relationship among themselves and with their environment. Language is the engine that powers human activity, through which we preserve our cultures. Similarly, language plays a crucial role in causing and resolving conflicts. Language is the defining value and identity of African culture and society.
To borrow the words of Professor Nasidi, language, culture and identity are like Gizo and Koki (the protean couple in Hausa trickster tales). Language, culture and identity go hand in hand. Language is the carrier that reflects our identity to others and delivers our culture. Identity is "people's concepts of who they are, what sort of people they are, and how they relate to others".
Culture as defined reflects what people have cultivated into their existence and value system.
Conflict is ubiquitous. Dealing effectively with conflict involves peacebuilding, which goes to the root of any conflict and transforms it through effective language communication theory. In the context of international conflict, perceptions of and emotional reactions to an event could be bound by one's socio-cultural assumptions.
Many scholars claim that interpretations of an event are bound by socio-linguistic perceptions. In fact, cultural variation has an impact on motivation, cognition and behaviour of citizens in dispute resolution. Similarly, language plays a crucial role in causing and resolving conflicts. This article sets out to explore the synergy among language, culture, identity and conflicts in Kaduna State.
READ ALSO: Leadership Mnemonic, by Hauwa Mohammed Sani
Kaduna State is multicultural with a colourful outlook. It is located in the northwest zone of the country. It takes its name from its capital city, Kaduna. It is ranked 4th by land area and 3rd by population in Nigeria. It has a population of approximately 6.1 million people.
The state capital was the former capital of the British Protectorate of Northern Nigeria that was after Lokoja (1897–1903) and Zungeru (1903–1914?). Other major urban areas in the state include Zaria, Kagoro, Kafanchan, Kachia, Nok, Makarfi, Birnin Gwari and Zonkwa. Kaduna State has 23 Local governments.
Language can cause or mitigate conflict because of its 'positive and negative powers'. When people are sensitive about their language, language tends to be a positive tool in life. People tend to tolerate, listen, understand, and co-operate with those who have similar values and belief systems. No society functions without culture, and culture is symbiotic with language. This is the inherent power of language. It plays a significant role in conflict management and peace-building. Language is part and parcel of culture, and culture in itself is a means by which people communicate, perpetuate, and develop their knowledge and attitudes towards life. Language must have a place in the management of conflicts and peace-building.
The consequence of conflict is often violence. Violence means doing harm to others in the pursuit of one's own preferences. Cultural and social norms are highly influential in shaping individual backgrounds, including the use of violence. For instance, cultural acceptance of violence or conflict through beatings, as exhibited in Fulani culture, is a risk factor in the interpretation of violence.
In a social mix where diverse people meet, most especially as a result of social and geographical contacts, a culture shock is produced. Usually, that is not the problem, rather, the challenge arises when there is politicization or poor mediation of diversity, which leads to violent shocks that explode into social conflicts with devastating consequences, like what is happening in Kaduna State indicated in the foregoing.
Most African countries have incorporated indigenous ways of conflict handling mechanisms that incorporate their local customs and traditions into their policies and constitutions. For instance, Botswana, Ghana, Zimbabwe, Namibia and Uganda planned to integrate indigenous conflict resolution mechanisms into their respective legal systems. This reiterates the fact that language, culture and conflicts are not a seamless whole.
Most people agree that culture and language do not serve as reasons why people should be experiencing conflicts and attacks every now and then and that culture is to bind them together and not destroy their common needed unity, majority also accept that appropriate use of language can promote peaceful co-existence.
READ ALSO: The place of Nigeria's social media bill in the COVID-19 era, by Hauwa Mohammed Sani (PhD)
Some of the citizens of Kaduna State lamented that: The fundamental thing that can address the turmoil they were passing through could be tied to the inability of the elites to use language correctly and appropriately so that Atyap Bajju and the Fulani (the case study of this article) can come to terms and reconcile. They added that even government intervention is needed to make sure they make an invitation to a reconciliatory table so that the mayhem can be curtailed.
One of the royal fathers, the Agwam Bajju, asserts:
The role of language in ensuring there is a peaceful co-existence is unarguably very true. It starts from even a family as the smallest unit of society. Language keeps a family as an entity and the moment the parents don't make sure they use language in transmitting morals to the children, automatically, they lose their moral standing. The maturity of an individual is counted according to their ability to make proper use of language and the nexus between an individual and his maturity is the use of language.
They also attribute the escalation of the mayhem to the "ghastly unguarded utterances of the government and the "conspiracy of silence" (two contradictory reasons).
On the relationship between language, culture and conflict, one of the royal fathers in Kaduna State, the Emir of Jamaa, affirms that language serves as a magnetic element that keeps people together in harmony. He wonders that without language, which serves as a common identity, what would have happened amongst Kaduna State people?
In his speech, he says culture and language are like Siamese twins; they cannot be separated. He further observes that the culture he inherited from his parents is a culture of peace, not violence. According to him, before the demise of his father, he 'pulled his ear' (admonished him) that he should never be privy to any group of people that causes tension that could lead to the loss of lives and destruction of properties. He said his father warned him that his culture was practised according to the required rhythm of their community. In his speech, he said even Allah does not encourage violence and, therefore, people shouldn't allow their personal interests to be a reason for tension.
Still on the synergy between language, culture and identity, the youth leader in one of the southern communities in Kaduna State, asserts that most of the names of the communities in the local government like Zangon Kataf, Samaru, Kurmin Masara, to mention but a few, have Hausa origin. To him, that was evidence of peaceful co-existence and cross-cultural relations that has existed for generations in the community before it was supplanted by conflict.
From the ethnographic point of view, the above discourse buttresses the fact that language is a veritable, viable and indispensable tool for peacebuilding, peace sustaining and peace reconciliation in Kaduna State. It also reiterates the strong nexus among language, culture, identity and conflict.
Way forward
Prof. Nasidi, in his article Literature and Identity in Northern Nigeria, quoted Michel Foucault, thus: Maybe the target nowadays is not to discover what we are, but to refuse [emphasis his] what we are…And I dare say that nowadays, it is neither to discover nor to refuse what we are, but to change what we are. Let us use language not only to portray our main forms of collective identification or our inner essence and quiddity but to resolve the incessant conflicts that have engulfed Kaduna State for over three decades. Let us forget our differences and embrace unity in diversity.
Let us meditate through proper use of language because dialogue is a panacea to assuaging conflicts. Let us employ language to create harmonious relationships because there is no doubt that peace plays a very significant role in ensuring mutual co-existence, self-actualization and development in any society, community, or nation. Let us do what it takes to put an end to the incessant conflicts that have created instability and constituted a constant threat to peaceful co-existence among residents of Kaduna communities.
Dr Hauwa Mohammed Sani is from the Department of English and Literary Studies, Ahmadu Bello University, Zaria, and can be reached via Email: hmsani@abu.edu.ng or hauwamohammedsanim@gmail.com.