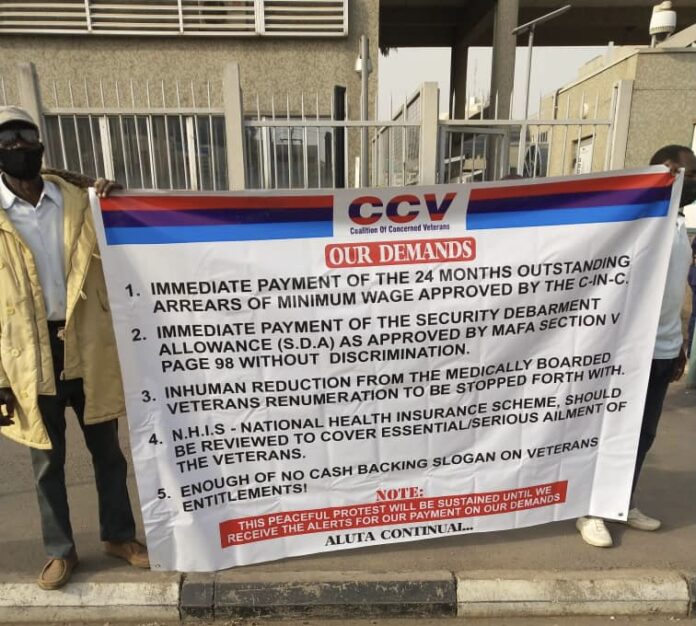 Military retirees protest 24 months minimum wage pension arrears in Abuja (Video)
There was tension in the Federal Capital Territory (FCT), today as aggrieved military pensioners protested their exclusion from the new minimum wage and other benefits after their retirement.
The protesters, under the aegis of Retired Members of Nigerian Armed Forces (REMENAF) and Coalition of Concerned Veterans (CVV) temporarily disrupted activities at the Ministry of Finance Headquarters, the venue of the protest, chanting " karyan minister ya kare, ba za mu Koma Gida bah." (Minister's lies end today, we won't go back home empty-handed).
The ex-servicemen in their hundreds held protest banners appealing to President Muhammadu Buhari to pay the 2 years entitlements, they also demanded the refund of all monies deducted from the pension of medically discharged officers and soldiers who had been "receiving pension since 40 years", adding that they spent their youthful years securing the country.
Speaking to Neptune Prime at the scene of the protest, Director of Media, CVV Oamien Roy Okhidievbie said the Minister of Defence and other parties involved have turned deaf ears to their demands after several meetings.
"How can you approve minimum wage and be paying civilian parties and other agencies, but military veterans have been agitating their payments since at 10th and 15th months, now its 24 months and still no response.
Also speaking, the National Coordinator and convener of the protest, Veteran Commander Abiodun Durowaiye Herberts said it is unfortunate that ex-servicemen have to go through such headaches to get their benefits even though there are retired armed generals at the helm of affairs of the country.
"Initially, we didn't intend to gather and wash our linings publicly, but we are saddened with the way we are been treated, the President, Minister of Defence, National Security Adviser are all retired veterans, but they refused to settle us, they should pay us before we die.
READ ALSO: Buhari give us food to eat, protesting Benue pensioners lament (Video)
They also appealed to the Federal Government to pay all the retired officers and soldiers the Security Debarment Allowance and not just a select few.