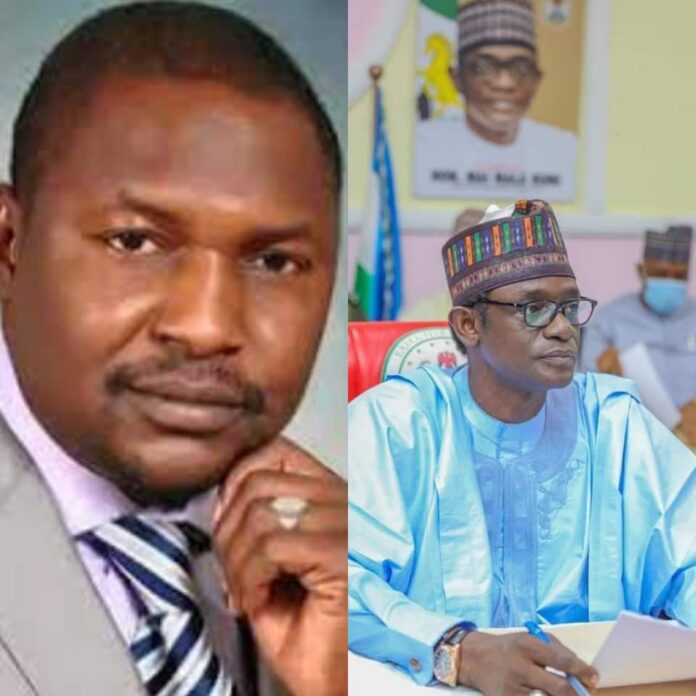 RE: Buni, Malami move to block convention, governors rise against interim party Chairman, by Yusuf Ali
These days, so many people are saying so many things, indulging mostly in sponsored attacks, and fictitious lies in the pages of newspapers on the activities of Governor Buni led CECPC, and as spokespersons, we make the deliberate choice of staying out of the most parts, because it is not worth replying.
But it is hard to ignore a publication in the Punch Newspaper of 12 January 2022 in which, according to the reports, a party leader who confided in their correspondent was making the false claims that Governor Mai Mala Buni and the Attorney General of the Federation, Abubakar Malami (SAN), are delaying the APC National Convention because he (Governor Buni) has a Vice Presidential ambition. Nothing could be farther from the truth.
We are conscious of the devilish plans being orchestrated by some mischievous elements to cause disaffection between our leaders and to distract the Buni led Caretaker Committee from its national assignments of putting the APC family house in order, ahead of the national convention.
It is important to note that, at the level the Governor Buni led Caretaker Committee is working, there should be no need to be doubtful about whether our great party, APC will be having its national convention after successfully completing the Ward, Local and State Congresses.
It will be recalled that after the end of the year 2021 meeting of the Caretaker Extraordinary Convention Planning Committee (CECPC) on Monday, December 20, 2021, and in the APC 2022 New Year Message, both signed by the Secretary, Sen. John James Akpanudoedehe, there was confirmation that planning for the National Convention has commenced. Members and the general public have been put on notice that relevant committees will be set up. The only problem hindering Governor Buni led CECPC to move to the next level is the unresolved issues of reconciliation in some states. Although the Senator Abdullahi Adamu led National Reconciliation Committee is working round the clock to meet its dateline, the reality is that it's not advisable for the governing APC, a party with so many crisis points and conflicting interests to go for national convention with a divided house.
This is the truth of the matter and not the fictitious lies some people are dishing to misled gullible Nigerians.
For the avoidance of doubts, Governor Mai Mala Buni has not told anybody that he has a presidential ambition. These are mere speculations in the Newspapers. Governor Buni has accepted to serve as the APC Chairman Caretaker Extraordinary Convention Planning Committee (CECPC), because of his love and loyalty to the party that promised brighter days for Nigeria and all Nigerians. He is contributing in this capacity to help develop a strong progressive party institution that can be impactful at the local, state and national level. He has devoted his life, energy and time to being able to do that. When he is working on rebuilding and repositioning the party, first thing comes first. We have to have a structure first. If people start with rebuilding a party today and deciding to become a presidential candidate tomorrow, actually you are trying to destroy the basis of rebuilding the party, because everybody will have ambition.
There is time for everything and Governor Mai Mala Buni has no ambition. As a practising Muslim with faith in God, he knows that leadership belongs to Almighty God. He gives it to whom He wills and takes it from whom he wills, none has the power to outpass the verdicts of God. But let it be known that Governor Buni has no ambition, he has not told anyone that he wants to be President or Vice President.
At this juncture, it is important to point out that Governor Mai Mala Buni is not an ambitious politician, but a leader with all the qualities of leadership. It is on record that leadership positions and responsibilities were always entrusted to him because of his judgements, and he is respected for his expertise, integrity, etc, hence these responsibilities followed. It is not because he held a certain position. He was APC Chairman Yobe State, National Secretary and today by the special grace of God he is a serving Governor and Chairman, APC Caretaker Extraordinary Convention Planning Committee. All are positions he has never aspired for, but entrusted to him because of his leadership qualities.
At this level and time, what the Governor Buni led Caretaker Committee needs is support from across party ranks to achieve maximum reconciliation for the governing party to go for the national convention as one united family ahead of the 2023 general elections.
We must also acknowledge the marvellous achievements of the Governor Buni led Caretaker Committee, attracting three serving Governors to APC and reconciling many aggrieved members that added to the strength of the party. APC is growing in leaps and bounds.
As Governor Buni led CECPC prepares for the national convention, we appeal to every party member and supporter to seek above everything else the unity and peace of this great party. The party must remain a strong political entity before, during and after the convention.
We should not forget the bigger challenge ahead of us in 2023, the presidential election without Buhari on the ballot. We cannot go into it divided nor can we win the trophy in such a state. We should all uphold the ideas of the party and give it unflinching support for its affairs as we journey into the national convention.
Yusuf Ali is the Media Officer, All Progressives Congress (APC) Headquarters Abuja.