Heartwarming Reunion: Maj Gen. VT Okoro visits retired superior who showed him kindness in Jos
Heartwarming Reunion: Maj Gen. VT Okoro visits retired superior who showed him kindness in Jos
In a heartwarming reunion, Major General V.T. Okoro, the General Officer Commanding (GOC) of the 2 Division in Ibadan, visited his former Chief Sergeant Major, Warrant Officer (WO) Adegoke, who is now retired.
The touching encounter took place in Jos, the capital of Plateau State, and brought back memories of their earlier days together.
READ ALSO: Nigerian-born Amanda Azubuike becomes Brigadier General in U.S. Army  
The details of their initial meeting in Jos are not entirely clear, but it is believed that WO Adegoke, known as DanArewa back then, had shown great kindness and respect to the young officer.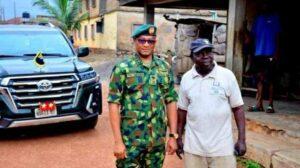 A tweet shared by a popular Nigerian military blog showcased a photo of Major General Okoro and W.O. Adegoke, accompanied by a message encouraging present military personnel to always act with honor, as their actions can have a lasting influence long after they have left their positions.
The emotional reunion serves as a reminder of the importance of gratitude and appreciation for the kindness shown by others. It highlights the enduring impact of positive interactions and how they can shape the lives and careers of individuals.