Lafia residents protest erratic power supply
Story from Ibraheem Hamza Muhammad
Residents of Lafia, capital of Nasarawa State have protested against poor power supply and overbilling while displaying placards.
The protesters displayed the placards at the office of Abuja Electricity Distribution Company, (AEDC).
The placards had these inscriptions: 'Enough is enough AEDC'; 'Boys are not smiling'; 'Bring back our light', 'No to corruption AEDC'; 'We are tired of extortion';
'We cannot be paying 20,000, 19,000, 15,000 without light'; 'We pay for light and not darkness'.
One of the aggrieved protester, Mr. Dahiru Angba Abbas said, "This protest is to request AEDC to provide us with constant power supply and provide Pre-Paid Meters against the estimated or over billing us.
READ ALSO: Staff Assault By EFCC: Legal action averted as AEDC announces resolution
"We are youth who are unhappy over the poor power supply in the state capital and for the past three weeks, we have not seen light in our area.
"We are appealing against estimated or over billing ranging from 15,000 to 20,000 per house monthly.
"We are law abiding, we have written the to management severally about our plight, but to no avail." he said.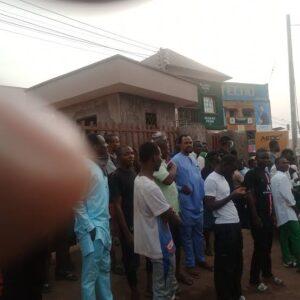 Officials of AEDC in Lafia said they are not allowed to talk to the press, that only the headquarters in Abuja can address the press.
The demonstration ended peaceful despite the number of youths involved.