The immovable sword; Not even Muhammad Ali had the power to pull it out
On the grounds of a teaching hospital in south-central Ghana, a legendary sword is buried in the ground. It is said to have belonged to Okomfo Anokye, a leader of the Ashanti people who plunged it into the earth hundreds of years ago.
Kwame Frimpong Anokye, popularly known as Okomfo Anokye, was a traditional priest and leader of the Ashanti people of Ghana. He helped establish new laws and customs to help reduce the influence of old traditional customs that were negatively influencing its people.
READ ALSO: Video: How Whales have been requesting favours from Boat captain for Decades
Okomfo, which means priest, was an acquired title as he was believed to possess special abilities of healing of controlling nature.
The sword was used by Okomfo Anokye as a symbol to signify peace and unity among the Ashanti Empire. According to local history, the sword was pushed into the ground over 300 years ago. It is believed that Okomfo Anokye pronounced the sword to be immovable, and so it has remained.
This is not due to lack of trying—there have been many attempts, and incredible men from all over the world have failed, including the well-known figure, Mohammed Ali, who attempted to remove the sword in 1964.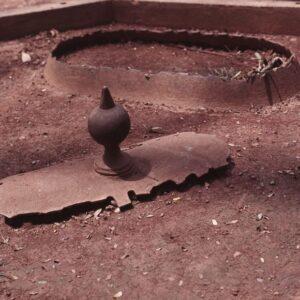 The sword has also attracted much attention over the years and even that of the Queen of England in 1961.
The Okomfo Anokye sword site is also home to the Komfo Anokye Teaching Hospital, as the site is said to be a healing ground. It is also home to the famous golden stool of Asantema, where it was said to have descended from.
Because it cannot be drawn out by a normal human, the true excellence and insider facts of this blade are unknown.